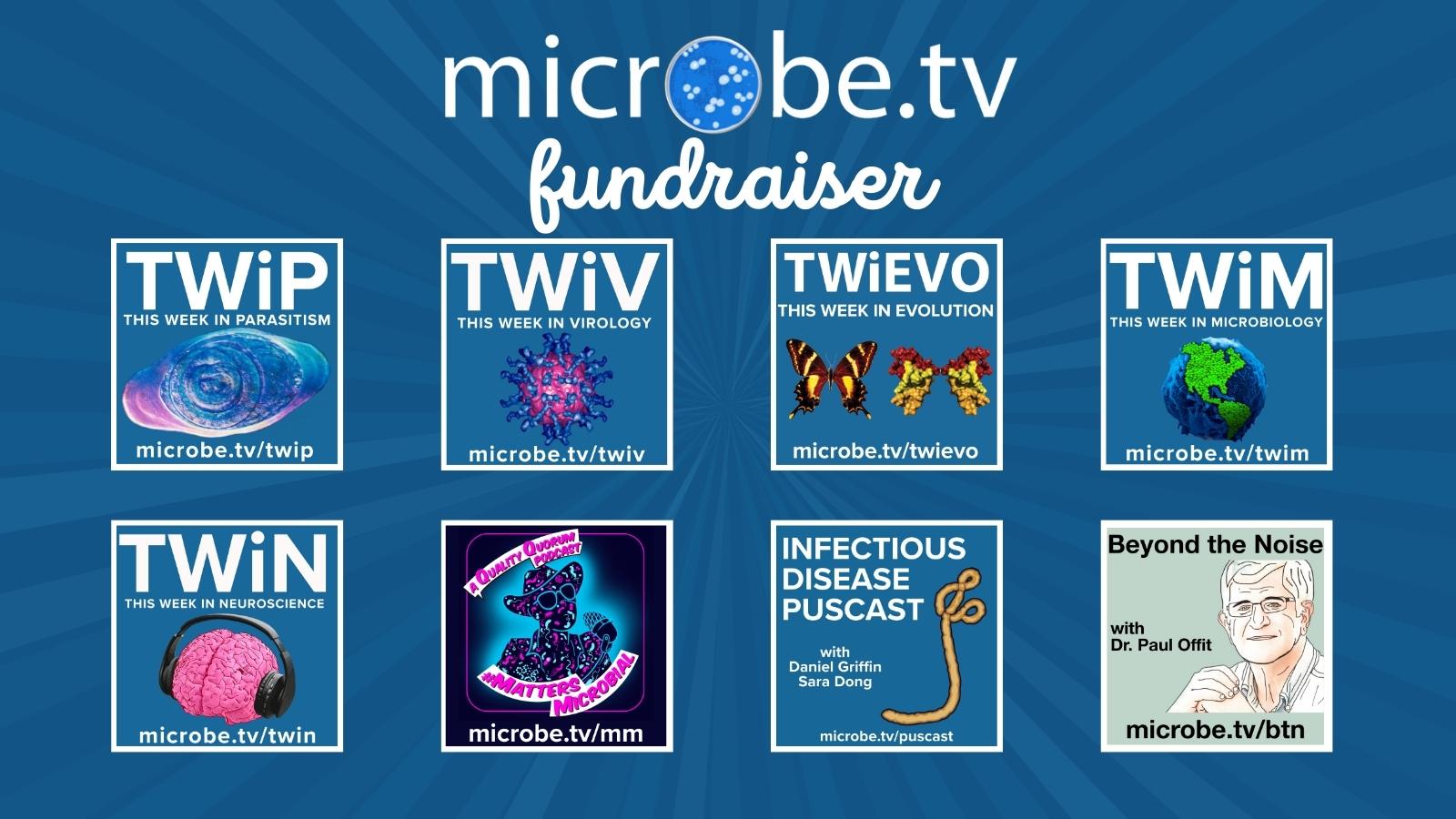 Throughout November, December And January, All Donations Made To Parasites Without Borders Will Be Matched By PWB And Donated To MicrobeTV
MicrobeTV is an independent podcast network for people who are interested in the life sciences. Our shows are about viruses, bacteria, parasites, evolution, immunology, and neuroscience.
Human Neural Larva Migrans Caused by Ophidascaris robertsi Ascarid | The public health significance of finding autochthonous melioidosis cases | Clinical Outcomes Associated With Overestimation of Oxygen Saturation by Pulse Oximetry in Patients Hospitalized With COVID-19 | Project NextGen Awards Over $1.4 Billion to Develop the Future of COVID-19 Vaccines and Therapeutics | Differences in SARS-CoV-2 specific humoral and cellular immune responses | Pfizer and BioNTech Receive Positive CHMP (Committee for Medicinal Products for Human Use) Opinion for Omicron XBB.1.5-adapted COVID-19 Vaccine in the European Union | Clinical Antiviral Efficacy of Remdesivir in Coronavirus Disease 2019: An Open-Label, Randomized Controlled Adaptive Platform Trial (PLATCOV) | Optimal Duration of Systemic Corticosteroids in Coronavirus Disease 2019 Treatment | Excess All-Cause Mortality in China After Ending the Zero COVID Policy | International Pediatric COVID-19 Severity Over the Course of the Pandemic | Risk of autoimmune diseases following COVID-19 and the potential protective effect from vaccination
World Health Organization (WHO)
Novel Coronavirus (COVID-19) Situation from World Health Organization (WHO)

Johns Hopkins University (JHU)
Coronavirus COVID-19 Global Cases by the Center for Systems Science and Engineering (CSSE) at JHU

COVID-19 in US and Canada
1Point3Acres Real-Time Coronavirus (COVID-19) Updates in US and Canada with Credible Sources

Genomic Epidemiology COVID-19
Genomic Epidemiology of (COVID-19) Maintained by the Nextstrain team, enabled by data from GISAID.