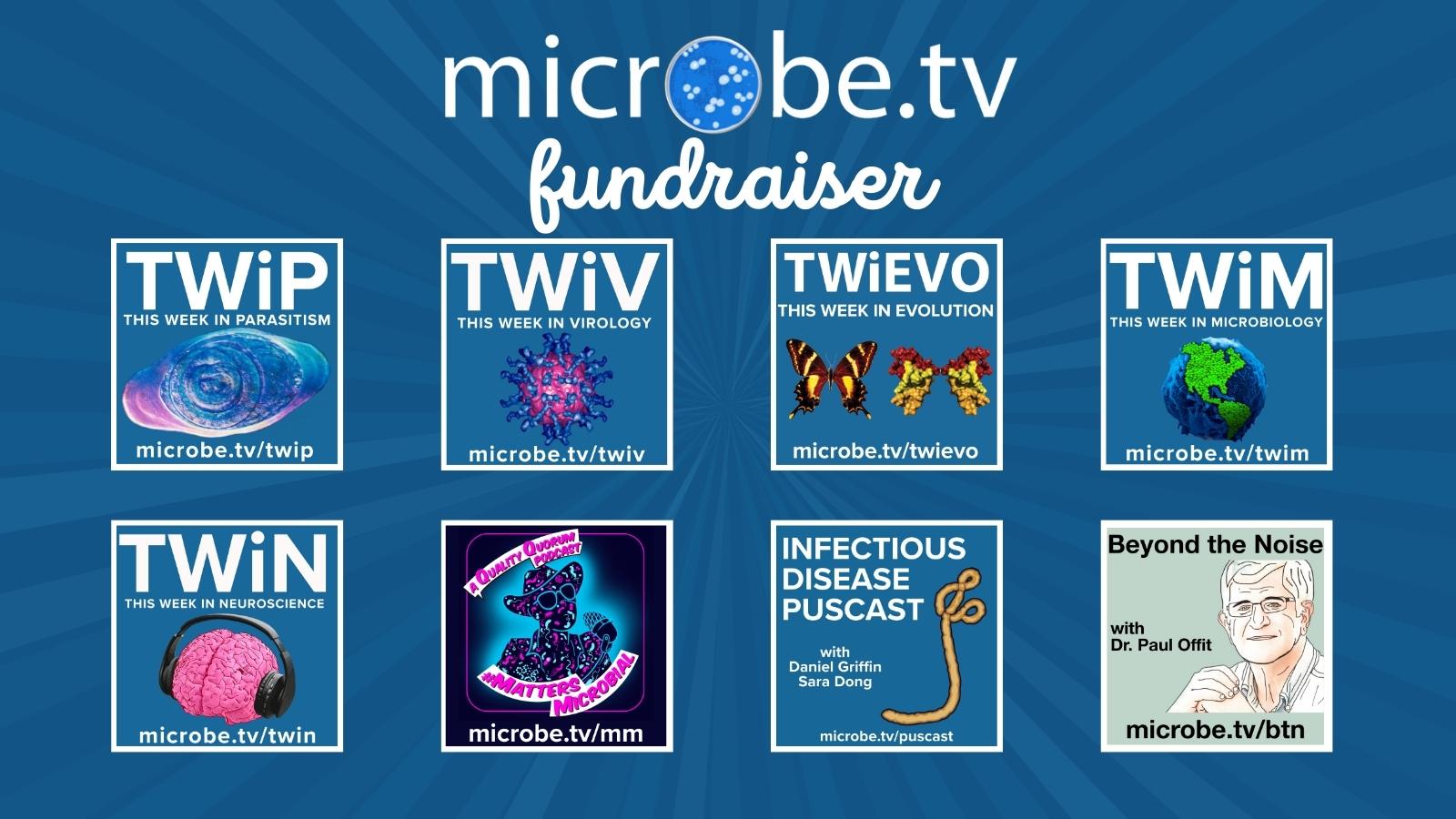 Throughout November, December And January, All Donations Made To Parasites Without Borders Will Be Matched By PWB And Donated To MicrobeTV
MicrobeTV is an independent podcast network for people who are interested in the life sciences. Our shows are about viruses, bacteria, parasites, evolution, immunology, and neuroscience.
Long COVID brain fog and muscle pain are associated with longer time to clearance of SARS-CoV-2 RNA | U.S. Food and Drug Administration approved Arexvy, the first respiratory syncytial virus (RSV) vaccine approved for use in the United States | Vaccination with BCG-Denmark did not result in a lower risk of Covid-19 among health care workers than placebo |NVX-CoV2373 vaccine efficacy against hospitalization: A post hoc analysis of the PREVENT-19 phase 3, randomized, placebo-controlled trial | Comparative effectiveness of the sars-CoV-2 vaccines during Delta dominance | Clinical Outcomes Following Treatment for COVID-19 | Real-life experience with remdesivir for treatment of COVID-19 among older adults: a multicentre retrospective study | Association between SARS-CoV-2 and metagenomic content of samples from the Huanan Seafood Market | Researchers disagree over how bad it is to be reinfected, and whether COVID-19 can cause lasting changes to the immune system | Virtual Care and Emergency Department Use During the COVID-19 Pandemic Among Patients of Family Physicians in Ontario, Canada | Assessment of Gender-Specific COVID-19 Case Fatality Risk per Malignant Neoplasm Type | Timing of intubation and ICU mortality in COVID-19 patients
World Health Organization (WHO)
Novel Coronavirus (COVID-19) Situation from World Health Organization (WHO)

Johns Hopkins University (JHU)
Coronavirus COVID-19 Global Cases by the Center for Systems Science and Engineering (CSSE) at JHU

COVID-19 in US and Canada
1Point3Acres Real-Time Coronavirus (COVID-19) Updates in US and Canada with Credible Sources

Genomic Epidemiology COVID-19
Genomic Epidemiology of (COVID-19) Maintained by the Nextstrain team, enabled by data from GISAID.
Sources for COVID-19 Information